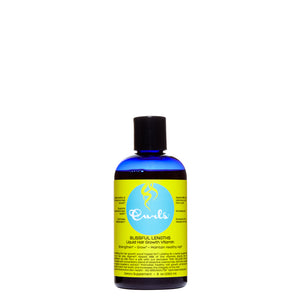 Curls Blissful Lengths Liquid Hair Growth Vitamin
Please note that products from this collection may require a longer shipping time. Of course I will always do my best to get orders out as quickly as possible. I thank you in advance for your understanding.
Grow, Strengthen and Maintain Healthy Hair, Nails & Skin,  MAXIMUM HAIR HEALTH & GROWTH IN 1 BOTTLE!  
Did you know that your body absorbs up to 98% of liquid vitamins into our bloodstream, and only up to 20% with a pill? That is right!  Get results with Blissful Lengths.
Our time release elixir is formulated with a proprietary blend of bioactive coenzymes, vitamins, antioxidants, nutrients, organic blueberry extract, and essential B vitamins including B1, B2, B3, B5, Biotin, Folic Acid and vitamin B12.  It promotes healthy hair growth, enhances the strength of each hair shaft, and increases the integrity of the hair.   
 Key Information
Absorb up to 98% of the vitamins and nutrients into the bloodstream vs up to 20% from a pill
Promotes healthy scalp, and increased hair growth
Aids in detoxification of, and the repair of, scalp cells
Reduces shedding and combats dandruff
Optimizes metabolism without caffeine
NON GMO
Vegan friendly 
Supports preventative skin health
NO breakouts
Boosts the immune system 
1 bottle = 1/2 month
 Directions: Shake well.  Take 1 tablespoon TBSP  (15mL) OR 3 teaspoons TSP (15mL) per day.  Refrigerate after opening.  Best to take in the morning.  Optimal results seen after 2-3 months.  Time to "Grow & Slay!"
 Ingredients: 
Vitamin A (as beta carotene) 700 IU 14%
Vitamin B-1 (as thiamin HCI) 5 mg 333%
Vitamin B-2 (as riboavin) 5 mg 294%
Vitamin B-3 (as niacinamide) 25 mg 125%
Pantothenic Acid (as d-calcium pantothenate) 25 mg 250%
Vitamin B-6 (as pyridoxine HCI) 10 mg 500%
Biotin 2,500 mcg 833%
Folate (as folic acid) 100 mcg 25%
Vitamin B-12 (as methylcobalamin) 100 mcg 1667%
Selenium (as L-selenium methionine) 70 mcg 100%
Inositol 200 mg **
MSM (methyl-sulfonyl-methane) 100 mg **
N-Acetyl -L-Cysteine 30 mg **
L-Proline 30 mg **
Proprietary Blend 350 mg **
Coconut Juice Powder, Blueberry Leaf Extract, Ginger Root Extract, Horsetail Extract, Aloe Vera
*Percent Daily Value are based on a 2,000 calorie diet **Daily Value not established
Key Ingredient Breakdown: 
B1 -immune system booster, required for proper skin development, promoted as stress reducer
B2- promotes healthy hair and nail growth 
B3- protects against toxins and pollutants, improves circulation in the scalp, which encourages hair growth 
B5- immune system booster, reduces dandruff and  treats hair loss
Biotin- Combats hair loss and encourages hair growth
B12- increases energy and  encourages cell detoxification 
Coconut Juice – helps post workout recovery and replaces electrolytes after sweating
Blueberry Leaf – helps skin repair itself, and clears skin. A natural anti inflammatory and strong antioxidant that encourages hair growth
Ginger Root-  improves circulation,  a natural anti-inflammatory, promotes cell cleansing and toxin removal
Horsetail Extract- a strong anti-oxidant, and aids against hairloss
Aloe Vera- the original superfood, promotes a healthy immume system, proteolytic enzymes to repair dead skin cells in the scalp
---
We Also Recommend