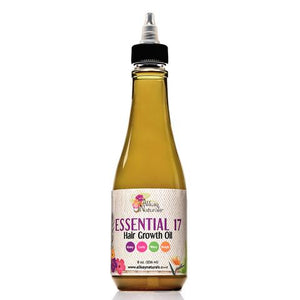 Alikay Natural 17 Essential Growth Oil
A Blend of 17 Essential Oils and herbs proven to promote hair growth and healthy scalp. Our research shows that each of these ingredients promotes hair growth. Emu Oil has been proven to prevent hair loss and regrow hair. This Product is 100% Natural and 100% Organic.
How to Use
Shake bottle well and apply oil to scalp. Massage into scalp well to stimulate your scalp and warm the oil. Massage also allows hair shaft and pores to open and soak in the essential oils nourishment. For best results use daily, drink enough water, and combine with proper diet and exercise. 
Ingredients
Emu Oil, Rosemary Oil, Organic Olive Oil, Jojoba Oil, Sweet Almond Oil, Horsetail Powder, Peppermint Oil, Herbal and Botanical Blend No Petroleum, No Mineral Oil , No Alcohol, No Paraben, No Sulfate, No Silicones PRODUCT DOES CONTAIN NUT BASED OILS
Wonderful service!
Great, responsive seller! Will buy again!
---
We Also Recommend