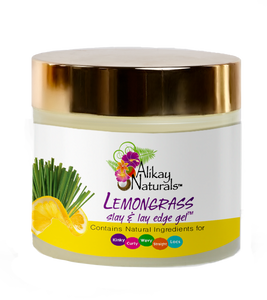 Alikay Natural Slay and Lay Edge Gel
Curated by Rochelle Graham-Campbell, Alikay Naturals CEO & Co-Founder, the Lemongrass Style Collection™ gives you the ultimate in style versatility. Lemongrass oil helps to strengthen hair follicles, promote healthy hair growth, reduce hair shedding, soothe dry hair and itchy scalp, make hair feel silky and look shiny. Our signature lemon fresh smell is delightfully refreshing. Used individually or layered to achieve the kind of stylish results that help you stand out.
Lay your edges down with confident long-lasting hold that works even on thick hair, while nourishing your hair with our new Lemongrass Slay & Lay Edge Gel ™.
Directions
On clean hair apply a small amount of edge gel to hairline. Do not use hard bristle brushes in this area. Instead use your fingertips, a very soft bristle brush or soft toothbrush.
Tip
Apply to clean or freshly wiped off edges to avoid build up. Also a little product goes a long way.
Ingredients
Water, Cetearth-25, Cetearth-30, Glycerin, Glyceryl Cocoate, Argania spinosa (Argan) Oil, Cymbopogon Flexosus (Lemongrass) Oil Extract, Perea Gratissima (Avocado)Oil, Polyglyceryl-6 Captylate, Peg 40 Hydrogenated (Castor Oil), Polyglyceryl-4-Caprate, Biotin, Tetrasodium Glutamate Diacetate, Phenoxyethanol, Ethylhexylglycerin(Derived from Glycerin)
---
We Also Recommend