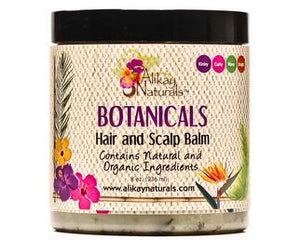 Alikay Naturals Botanicals Hair and Scalp Balm
This is NOT a pore clogging hair grease!!!
Formulated blend of vitamins, botanicals, herbs and essential oils provide the relief that your hair and scalp needs.
Relieve your dry itchy scalp and dandruff by keeping your hair and scalp moisturized, without clogging your pores.
A soothing scalp treatment in every application right at your finger tips.
Lightly scented with warming vanilla.
This Product is 100% Natural and 90% Organic.
How to Use
Apply a small amount to your hair and scalp as needed. May be used daily or as often as needed.
Ingredients
Rosemary oil, Shea butter, Coconut oil, Vitamin E, Nettle, Avocado Oil, Grapeseed oil, Peppermint Oil, Babassu Oil,Fragrance, Herbal and Botanical Blend Infusions No Petroleum, No Mineral Oil , No Alcohol, No Paraben, No Sulfate, No Silicones.
---
We Also Recommend