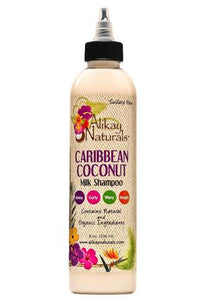 Alikay Naturals Caribbean Coconut Milk Shampoo
A natural coconut based shampoo that cleans your hair without drying it out.
Coconut Oil provides an amazing treatment for dry damaged hair.
Its natural fatty acids penetrate your hair shaft and replenishes moisture from root to tip, while enhancing your hair strength.
Coconut milk slows down hair loss and softens your hair.
The coconut scent is uplifting.
Your hair deserves this Caribbean treat.
Can be used for relaxed or natural hair.
This Product is 100% Natural and 90% Organic
How to Use
 Apply to wet hair.
Massage it in and gently scrub scalp. Hair tip:
For best results when shampooing don't scrub hair in circular motion, it causes friction which causes hair breakage and tangling.
Ingredients
Aloe vera juice, Glycerin ,Coconut Oil, Distilled water, Coconut milk, Rosemary oil, Sage, Nettle, Almond oil, Jojoba oil, Tea tree oil, Avocado oil, Fragrance, Herbal and Botanical Blend No Petroleum, No Mineral Oil , No Alcohol, No Paraben, No Sulfate, No Silicones.
---
We Also Recommend