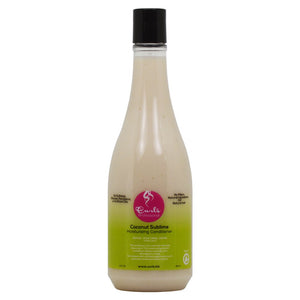 Curls Coconut Sublime Conditioner
Please note that products from this collection may require a longer shipping time. Of course I will always do my best to get orders out as quickly as possible. I thank you in advance for your understanding.
Are your curls dry, dull and lifeless?
Give them just what they need! Daily moisture!
This EXCEPTIONAL moisturizer will hydrate, condition and revive your curls, restoring their natural beauty.
Looking for a conditioner that provides MAXIMUM moisture and softness for your dry curly tresses?
Look no further, Coconut Sublime Conditioner is guaranteed to soften the kinkiest curl, moisturize the driest lock, and detangle the most unruly tresses.
Great for all curly hair textures especially dry, damaged, and chemically treated kinky, medium or coarse curly hair.
How to Use:
Use after every shampoo
Apply Coconut Sublime Conditioner to wet hair.
Detangle with a wide tooth comb.
Leave on for 1-5 minutes.
Rinse.
Works great as a mid week conditioning rinse--rinse hair apply Coconut Sublime Conditioner, detangle, and rise.
Ingredients:
Purified Water, Cetyl Alcohol (derived from coconut) Stearalkonium Chloride, Cetearyl Alcohol (derived from coconut), Polysorbate 60, Virgin Coconut Oil (Cocos Hucifera), Panthenol, Certified Organic Arnica Flower Extract, Certified Organic Chamoile Flower Extract, Certified Organic White Tea Extract, Monoi de Tahiti, Methylheptyl Isostearate, Hydroxypropyltrimonium, Hydrolyzed Corn Starch, Potassium Sorbate, Phenoxyethanol, Caprylyl Glycol, Natural Fragrance, Caramel. Key Ingredients Breakdown:
Cetyl & Cetearyl Alcohol - Fatty alcohols that acts as a gentle humectant (promotes the retention of moisture) and emulsifier. Naturally derived from fatty acids from coconut oil.
Panthenol - Vitamin B complex that adds strength and body to hair by filling in cracks on the hair shaft.
Certified Organic Camellia Sinensis Leaf Extract - Green tea - Soothes and moisturizes dry hair and scalp.
Certified Organic Coconut Oil - Natural oil rich in lauric acid and full of triglyerides (great moisturizing fatty oil).
Benxophenone-4 - Sunscreen to protect against harmful UV rays
Caprylyl Glycol - One of the most, if not the most, effective humectants available today.
It is a liquid preservative formulation that protects against antimicrobical growth from bacteria and yeast while giving the finished product exceptional feel.
---
We Also Recommend