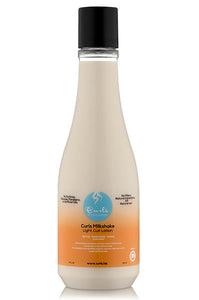 Curls Milkshake Curl Lotion
Please note that products from this collection may require a longer shipping time. Of course I will always do my best to get orders out as quickly as possible. I thank you in advance for your understanding.
For FINE curly hair Guaranteed to define, defrizz, revive, hydrate, and soften dry curls.
Derived from natural milks and exotic extracts, this moisturizing cream will bring life back to your overworked tresses.
Light enough to use on fine curly hair. Perfect cream for transitioning curlies...to soften and hydrate dry new growth.
Also works GREAT for curly weaves.
For best results, apply evenly, section by section.
How to Use:
DAY 1 - Apply to freshly cleansed/conditioned hair, while it is still wet. Moisturize first with Quenched Curls Moisturizer. Scrunch Curls Milkshake into hair, section by section. Allow hair to air dry.
Day 2 -Refresh your curls with Quenched Curls Moisturizer and reapply Curls Milkshake to curls as needed.
Ingredients:
Purified water, certified organic aloe barbadensis leaf juice, cetearyl alcohol, behentrimonium methosulfate, Certified Organic jojoba oil, cetrimonium chloride, soy protein, soyamidoprpylkonium chloride, allantoin, soy lecithin, Certified Organic sweet almond milk, Certified Organic coconut milk, Certified Organic aloe vera milk, milk amino acids, buttermilk, Certified Organic arnica extract, Certified Organic lavender extract, Certified Organic chamomile extract, Certified Organic white tea extract, sodium benzoate, potassium sorbate, fragrance.
Key Ingredients Breakdown:
Certified Organic Aloe Leaf Juice - Vitamin rich moisturizer (B1, B2, B6, C, Choline, + 18 amino acids)
Behentrimonium methosulfate - the mildest hair-detangling ingredient available. It is made from non-genetically modified rapeseed oil. This scientifically sophisticated ingredient is renowned for its superior detangling ability, without causing build-up on the hair. It is not a sulfate.
Cetearyl Alcohol - A mixture of fatty alcohols derived from coconut oil. Emollient.
Allantion - botanical extract of the comfrey plant and is used for its healing, soothing, and anti-irritating properties. Helps to heal scalp irritations and stimulate growth of healthy tissue.
Soy Protein - Reinforces and strengthens hair. Stimulates hair growth.
Coconut Milk - Natural curl relaxer that softens, moisturizes and defrizzes hair.
Chamomille Extract - Strengthens hair, adds sheen.
---
We Also Recommend