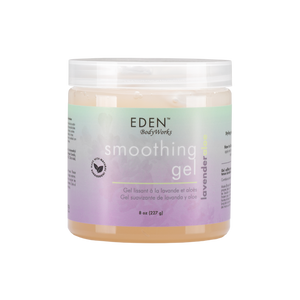 Eden Bodyworks Lavender and Aloe Smoothing Gel
Smooth frizz and reduce flyaways with EDEN BodyWorks Lavender Aloe Smoothing Gel, designed to provide a lasting flake-free hold.
Enriched with Lavender Oil and Aloe, this hair gel shapes and sculpts hair to a gorgeous finish. Enhances curly or natural hair looks. Scrunch hair after application for added definition. No residue left behind.
NOTE: This product is a great replacement for our Coconut Shea Curling Jelly. Try it!
Benefits
CONTROLS FRIZZ – apply to reduce frayed hairs
BOOSTS SHINE – won't dry out or dull hair
AIDS in style definition
Recommended For
Use to achieve and enhance textured looks like wash 'n go's, braids, twists or twists outs, ponytails, and up do's.
---
We Also Recommend