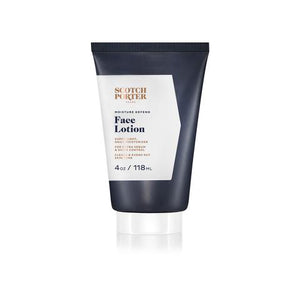 Scotch Porter Charcoal & Licorice Moisture Defend Face Lotion
Our newly reformulated Moisture Defend Face Lotion, with Turmeric, Peony and Meadowsweet is the only lotion you'll ever need. Lightweight enough for all skin types, while also controlling shine and sebum.

SUPPLY: 
2-3 Months
SCENT PROFILE: 
Top Notes: Lemon, Californian Tangerine, Green leaves, Spicy accord
Middle Notes:White flowers, Lavandin, Labdanum, Orange flower
Base Notes: Amber notes, Smokey woods, Musk, Oakmoss
 USE:
Massage a small amount over your face after cleansing with Scotch Porter Restoring Face Wash or our Exfoliating Face Scrub.
PRO TIP:Applying a daily moisturizer twice daily after cleansing is essential. Think we're kidding? Try wearing a pair of leather shoes for a while without conditioning them, and you'll see all of those cracks, crevices, general wear and aging over time. If that happens to even the toughest of tanned cowhide, imagine your face? Your skin is much less resilient and requires care and protection to remain fresh in appearance. Apply Face Lotion while your skin is still slightly damp to seal in moisture (two to three minutes after washing, no longer). A really good moisturizer will leave your skin feeling smooth and soft without feeling oily and heavy. It will also help to control shine from oily areas of the skin.
KEY INGREDIENTS:
Turmeric Root – Thanks to its anti-inflammatory and antibacterial benefits, turmeric can work wonders on condition-riddled skin. It can also help reduce redness from blemishes and calm many skin conditions. Turmeric is excellent for blemish prone skin, as it is a natural antiseptic and helps to keep bacteria from spreading.
Peony – Peony Root Extract is an antioxidant that is well known in boosting skin clarity. Over time, the appearance of one's complexion diminishes—age spots increase and natural oils decrease making skin dull and dry looking. Specially formulated with Turmeric and Licorice Roots, our Peony Root Extract works well together in our face lotion formula to help correct skin's surface for healthier, younger-looking skin.
Meadowsweet – Meadowsweet (Spiraea ulmaria - also known as Filipendula ulmaria) has been used since the Bronze Age. Traditional herbalists knew of meadowsweet's usefulness as a treatment for fevers, colds and aches, and it was one of many sacred plants of the Druids. Now, this calming herb is used for many skin conditions and is thought to help with rashes and irritation as it has anti-inflammatory, tightening, toning and astringent properties.
NO Sulfates, Silicones, Petrolatum, Parabens, Mineral Oil, Synthetic Colors, Phthalates, PEG's, Animal Ingredients. Not tested on animals. Color Safe.
---
We Also Recommend