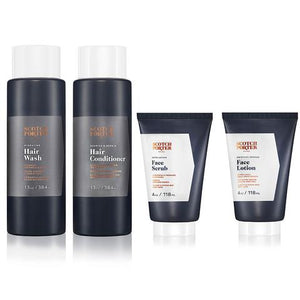 Scotch Porter Essential Hair & Face Collection
Please note that products from this collection have changed in size availability.   This product is ONLY available to us in 8 OZ sizes now although the stock photos show a 13OZ version. This change was implemented by the Scotch Porter brand for their online retailers.  I thank you in advance for your understanding.
Our Essential Hair & Face Collection has what you need to keep both your hair and face looking great all year.
SUPPLY: 
2-3 Months
SCENT PROFILE: 
Top Notes: Eucalyptus, Lemon, Bergamot, Cardamom
Middle Notes: Lavender, Muguet, Geranium
Base Notes: Amber, Cedarwood, Patchouli, Musk, Tonka
 USE:
Apply our Hydrating Hair Wash to your wet hair. Gently massage wash into hair. Rinse well with warm water. Say goodbye to problematic hair and scalp issues and hello to softer, healthier, and more manageable hair. It's the Hair Wash equivalent to a beer after a long day.
PRO TIP:Only wash your hair with a sulfate-free shampoo, since shampoos with sulfates leave your hair coarse, dry and frizzy. Gents with coarse hair should limit hair washing to no more than once per week to avoid robbing your hair of moisture. If you have fine or oily hair, wash your hair no more than once every 5 days, or else it will look very sad and frizzy. Men of all hair types: feel free to condition your hair up to two times per week, in place of shampooing so often.
KEY INGREDIENTS:
Kale Protein
Horsetail Extract
White Willow Bark


NO Sulfates, Silicones, Petrolatum, Parabens, Mineral Oil, Synthetic Colors, Phthalates, PEG's, Animal Ingredients. Not tested on animals. Color Safe.
---
We Also Recommend