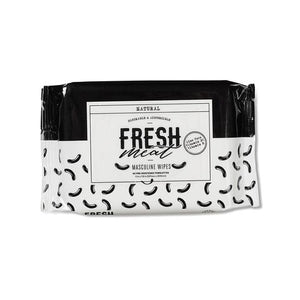 Scotch Porter Fresh Meat Masculine Wipes (40 CT)
Let's keep it real, there's nothing worse than some funky junk below your belt - with our balls curing in our pants all day where it's dark, warm and moist, there's all kinds of things breeding down there.
 Sweaty balls? Not cool – it's uncomfortable and unsanitary, not to mention a real problem if you're getting ready for a sexy night of Netflix n' chill.
Well, we have a solution for you: Fresh Meat Masculine Wipes.  Use them to keep your meat packing district fresh and clean anytime, anywhere. 
 We put nature's goody goods at work here - Aloe and Vitamins B & E (with no Paraben, Phthalate, Chlorine, Formaldehyde, Alcohol, or any other wack items) so the wipes are gentle and good for your most sensitive skin.
The scent is of the masculine kind, so we promise you won't be out here smelling like a newborn baby or a flowery meadow.
 The wipes are flushable and dispersible – you'll be saving the environment, and the money you would have spent calling a plumber to unclog your toilet.
Fresh Meat is man sized; for all the guys out there packing an extra-large bratwurst (last meat pun, we swear.)
Flushable and dispersible
Man-sized for all you guys packing an extra large bratwurst. 
Free of Paraben, Phthalate, Chlorine, Formaldehyde, & Alcohol
Scent Profile:

 

Sophisticated notes of leather and black peppercorn, with patchouli, musk, citrus and warm woods
---
We Also Recommend