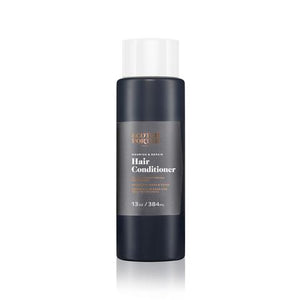 Scotch Porter Nourish & Repair Hair Conditioner
Please note that products from this collection have changed in size availability.   This product is ONLY available to us in 8 OZ sizes now although the stock photos show a 13OZ version. This change was implemented by the Scotch Porter brand for their online retailers.  I thank you in advance for your understanding.
Our Nourish & Repair Hair Conditioner is a deep conditioning treatment that replenishes moisture, repairs damage and strengthens hair from root to tip, leaving hair soft, shiny and frizz-free.
SUPPLY:
2-3 Months
SCENT PROFILE:
Top Notes: Eucalyptus, Lemon, Bergamot, Cardamom
Middle Notes: Lavender, Muguet, Geranium
Base Notes: Amber, Cedarwood, Patchouli, Musk, Tonka
USE:
Work thoroughly into wet hair. Pay special attention to the ends of your hair. Leave in your hair 2 to 5 minutes and rinse. Rinse well with warm water. For best results, follow with Scotch Porter Hair Balm.
PRO TIP:After rinsing the conditioner from your hair, partially dry it. Squeeze excess water from your hair. Use an old cotton t-shirt or microfiber cloth and squeeze firmly and gently (don't rub!) to remove excess water. NEVER dry your hair with a towel. EVER. The rough surfaces of towels snag hair and cause unnecessary frizz. Why be so cruel to your hair?
KEY INGREDIENTS:
Kale Protein – Our Kale Protein blend combines the strength of kale, carrot, and lemon into one nutrient rich blend designed to condition and moisturize the hair while fighting the signs of damage. Our Kale Protein blend promotes moisturization, barrier function, and the overall health of the hair.
White Willow Bark – White Willow Bark Extract known for its flake reduction benefits, helps reduce inflammation and associated redness, plus, it acts as an effective antimicrobial. The natural salicylates found in white willow bark provide UV protection and help decrease irritation. Additionally, white willow is useful in increasing the rate of cellular renewal, ensuring that dull, dead skin cells are exfoliated thus decreasing the likelihood of dry and/or problem skin.
NO Sulfates, Silicones, Petrolatum, Parabens, Mineral Oil, Synthetic Colors, Phthalates, PEG's, Animal Ingredients. Not tested on animals. Color Safe.
---
We Also Recommend