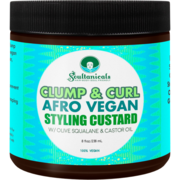 Soultanicals Clump & Curl Afro Vegan Custard
Please note that products from this collection may require a longer shipping time. Of course I will always do my best to get orders out as quickly as possible. I thank you in advance for your understanding.
CLUMP & CURL delivers more definition with major clump for tight curl definition. Our proprietary blend of vegan curl-activating ingredients bind hair strands together, sealing & creating more defined curls. Clumps tightly for easy curl definition Creates a powerful bond to lock in moisture & prevent any fly-away strands. Clump & Curl reduces frizz while nourishing & shaping curl pattern. Locks curls for 24+ hour Curl Formation INSTRUCTIONS: For best results, apply CLUMP & CURL to soaking wet, freshly washed hair. For very tightly coiled hair, use FRIZZ WHIZ as a leave in conditioner, then apply Clump & Curl to soaking wet hair in small sections. Smooth onto each section with fingers from root to tip.
CLUMP-FORMING INGREDIENTS: Distilled Water, Hydroxyethyl Cellulose, Sodium Carbomer, Castor Oil, Vegetable Glycerine, Stearylkonium Chloride, Olive Squalane, Centrimonium Chloride, Pthalate-Free Fragrance, Gluconodeltalactone, Sodium Benzoate, an extra scoop of soulistic flava and LOVE!
---
We Also Recommend