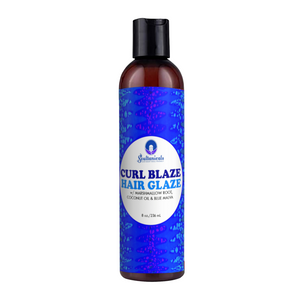 Soultanicals Curl Blaze Hair Glaze
Please note that products from this collection may require a longer shipping time. Of course I will always do my best to get orders out as quickly as possible. I thank you in advance for your understanding.
Slip into natural hair bliss with this moisturizing, shine-enhancing and oh-so-curlicious plant-based hair gel. Define with blue malva & marshmallow root, acacia honey and silky smooth plant gum to create a ph-balanced, frizz-free, hydrating experience- certain to hold your curls in heavenly cloud 9. Awesome slip & Crunch-free.
WARNING: Extremely Curl Reactive! ;)
CURL BLAZING INGREDIENTS: Distilled water Infusion of Blue Malva and Marshmallow root, Aloe Juice, Vegetable Glycerine, Guar Gum, Panthenol, Sclerotium gum, Sodium Lactate, Meadowfoam Seed Oil, Coconut Oil, Organic honey, Citrus Essential Oil and Fragrance Blend, Potassium Sorbate, Citric Acid and a glaze of love!
---
We Also Recommend