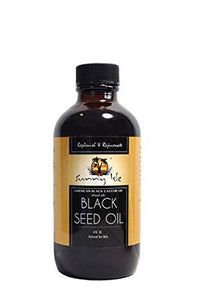 Sunny Isle Jamaican Black Castor Oil with Black Seed Oil
Get the luxurious tresses you've always wanted with our Jamaican Black Castor Oil Infused with Black Seed Oil. This formula is ideal for treating dull, damaged hair … or dry, rough skin. Proven to be one of the most effective skin and hair oils on the market, our JBCO gets an extra boost from nutrient-rich black seed oil, which delivers a range of health benefits. And it's so versatile that you can use it as a skin and hair moisturizer or as a pre-shampoo hot oil treatment. It's also a great body oil to help relieve sore muscles and joint pains, and to alleviate some skin conditions.
Key Ingredients
Nigella sativa (Black Seed Oil)
Ricinus communis (Castor Seed Oil)
Stimulates hair growth
Helps with premature gray hair
Promotes healthier skin
Helps to treat acne, psoriasis, eczema and scars
Helps to treat fungal infection and muscle aches and pain
Massage small amount of Sunny Isle JBCO infused Black Seed Oil into scalp daily. Do not rinse out.

Pre-Shampoo or Hot Oil Treatment
Apply generous amount of Sunny Isle JBCO infused Black Seed Oil into scalp and hair. Cover with plastic cap and apply heat for 30-45 minutes. Shampoo and style as usual.

Body Usage
Repairs and replenishes dry skin and other skin conditions.
Reduces muscle aches and arthritic pains.
Ingredients:
Nigella sativa (Black Seed Oil), Ricinus communis (Castor Seed Oil) 
---
We Also Recommend