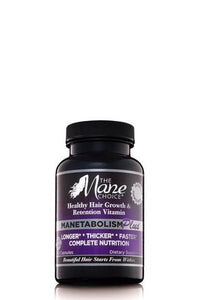 The Mane Choice Manetabolism Plus Healthy Hair Growth & Retention Vitamins
Manetabolism Plus is a physician-formulated, multicultural, GMO free, healthy hair vitamin that helps to support healthy hair growth, nails, and skin. A daily, complete dietary supplement formulated to help hair grow longer, thicker, faster and healthier.
60 capsules per bottle
A complete formula that can also serve as a multi-vitamin to aid in a healthier nutritional intake.
• Helps to promote longer, thicker, and healthier hair, the healthy way.
• Improves dietary nutrition and helps to support the overall health in the body.
• Loaded with essential antioxidants to help boost the immune system and energy levels naturally.
How to Use:
Start by taking a before picture of your hair to track results.
For adults, take 2 capsules a day with food. Can be taken at the same time or at separate times.
Benefits:
Vitamin A
A multi-functional antioxidant that promotes healthy skin, hair and nails and also enhances the immune system. Vitamin A allows the scalp to produce sebum which aids in the thickness and shine of hair.
Vitamin C
Helps to build collagen, a protein that is crucial in the progress of hair growth. Effective in the treatment of hair loss. Aids in the health of the skin and enhances the immune system. Increases scalp circulation, which aids in hair growth.
Vitamin D3
Plays a key role in preventing hair loss as well as fostering hair growth. Enhances the immune system.
Vitamin E
One of the strongest antioxidants available to the body. Increases hair growth and strength by stimulating more blood flow to the scalp. Protects the scalp internally and externally. Enhances the immune system.
Vitamin K
Heals damaged scalp and skin and keeps hair healthy.
Niacin (B3)
Minimizes cholesterol buildup on the scalp, which enhances hair growth.
Vitamin B6
Particularly important for hair growth and may cause hair loss when there is a deficiency in the body. Stimulate hair growth, especially in people who suffer from hair loss or thinning.
Folic Acid
An essential vitamin that plays a key role in the overall health of hair and is involved in all three hair follicle cycles, helping to determine a hair strandâ€s quality and longevity. A deficiency can stunt hair growth. Promotes hair growth by renewing the cells that grow hair. A deficiency in folic acid can inhibit the health of your hair and lead to hair loss and premature graying.
Vitamin B12
Energy booster. Many people who suffer from hair loss have vitamin B12 deficiency. Nourishes scalp and heals the scalp thus promoting hair growth.
Biotin (B7)
B-complex vitamin useful in the prevention of hair loss and premature graying. Promotes elasticity within the hairâ€s cortex while thickening cuticles to eliminate breakage. Decreases itchy dry and flaky scalp. Supports the health of the hair, skin and nails.
Zinc
One of the most important vitamins needed for healthy hair. It helps the body to sustain healthy hair in many ways. Helps the body to utilize protein and also contributes to speedy hair growth. A deficiency can reduce the effectiveness of other vitamins in the body.
Ingredients:
Vitamin A 8150IU, Vitamin C 100mg, Vitamin D3 400 IU, Vitamin E 15 IU, Vitamin K1 80mcg, Thiamin 5mg, Riboflavin 5mg, Niacin 10mg, Vitamin B6 5mg, Folic Acid 400mcg, Vitamin B12 100mcg, Biotin 5000 mcg, Pantothenic Acid 50mg, Calcium 100mg, Magnesium 50mg, Zinc 10mg, Selenium 50mcg, Copper 1mg, MSM, Shark Cartilage, Brown Seaweed, Horsetail, Inositol, DHA, Grapeseed Extract, Ginkgo Biloba, L-Lysine, L-Alanine, L-Arginine HCI, L-Aspartic Acid, L-Cysteine HCI, L-Gluatamic Acid, L-Glycine, L-Histidine HCI, Taurine, L-Threonine, L-Tyrosine, L-Valine, Gelatin, Cellulose, Magnesium Stearate
This product does not contain porcine (pork) products.
---
We Also Recommend